An open 1,500 m² hot spring beach that flows natural hot springs.
The indoor large public bath, with direct access to the hot spring, includes a cypress bath and open-air bath.
Come and fully enjoy our natural hot spring spa resort.

The hot spring beach, "To-ko-nats", is surrounded by lush forest is reminiscent of the south country land. As the water temperature remains at about 36 °C, people can enjoy it all year round.
There is an abundance of fun, especially popular are the jacuzzi and slide, exciting for both children and adults.
Open Hours

Bathing Hours: 8:00 – 21:00 (accessible year round)
*Cleaning time: 9:00 to 10:00
Swimwear Rental

700 yen for adults (includes tax)
500 yen for children (includes tax)
※Between 11:30am and 14:00pm is not available.
Additional information

■Float Ring
Purchased at the shop

*Customers are allowed to bring their own goods for water play.

Full-scale 25-meter hot spring pool.
There is direct access to the indoor hot spring pool from the changing room.
[Open Hours]

7:00-21:00

From the open-air bath, your eyes and soul shall be soothed by the scenery of Kita Yuzawa in every season.

Created in the spirit of the divine zen, our spacious, beautiful hot spring heals fatigue of the body and mind.
In addition, an outdoor bath, waterfall shower bath and sauna await you.
[Open Hours]

24-hour access
Sauna

[Open Hours] 7:00 – 24:00
【Type】 Men's Side: dry sauna / Women's Side: dry sauna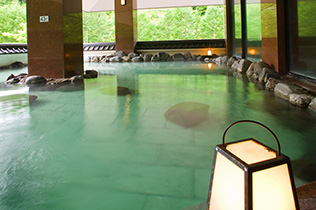 Open Hours

・10:00 – 21:00(Last entrance by 20:00)
Applicable fees

■Fee
10:00 – 21:00(Last entrance by 20:00)
Adults 1,500 yen(includes tax) / Elementary school ages 750 yen (includes tax) / Younger children free
*10:00 – 14:00 is open use bathing time, however, as there is cleaning performed particular baths will be intermittently inaccessible. We apologize for the inconvenience, and appreciate your understanding in advance.

■Two locations' hot spring facility use ticket (Kita Yuzawa Soraniwa・Horohoro Sansou)
Adults 2,200 yen(includes tax) / Elementary school ages 1,100 yen (includes tax) / Younger children free

■Rental fees: Bath towel・Towel 3000 yen (includes tax)
*The hot spring beach "To-ko-nats", and indoor hot spring pool 'Su Yi Mani' use are also included.
*There are times when the schedule varies, such as during New Year's holidays, Bon Festival days and other specific days (consecutive holidays). Be sure to contact in advance, please.
*One-day bathing reception on the basement floor will be open until 18:00.
*From 18:00 to 20:00 reception will be taken at the front desk.
*Bathing time is until 21:00.

*If you are a "day-use guest", please refrain from bringing in any outside foods and drinks. In addition, we do not offer lunch in the dining halls, so please be aware in advance.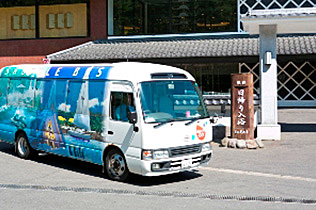 Take a free shuttle bus to visit "Mori no Soraniwa"and
"Horohoro Sansou"
By using the bus "Yumeguri Go" that runs in 15-minute intervals, you can go between the two buildings "Mori no Soraniwa" and "Horohoro Sansou" arriving at the location wearing a Japanese Yukata.
The bus departure is the entrance of each building. For details, please click on the 【Free Shuttle Bus Schedule】 below. The Yumeguri runs from 8:00 to 22:00. Please be aware when planning.
*Going between hot spring locations by car or on foot is not permitted.
*The use of Midorinokaze Resort Kita Yuzawa (Meisuitei) is only available to guests staying in Midorinokaze Resort.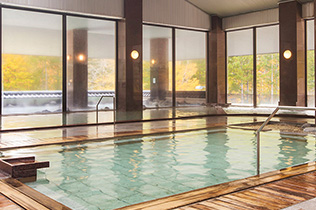 Source name

Kita Yuzawa onsen
Hot spring type

simple thermal hot spring (weak alkaline, hypotonic, hyperthermal springs)
People with the following conditions / diseases are medically prohibited and must avoid this spring

Not applicable
People with the following conditions / diseases could benefit from this spring

Nerve pain • Muscle pain • Recovery after illness • Health promotion
Source temperature

80.6℃
pH

8.7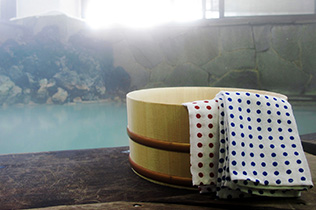 We prepare a brand ECOLOGY & SAFETY for personal care amenities such as shampoo, conditioner and body soap.
What is ECOLOGY & SAFETY?

Silicone-free base that is gentle on the skin.
Highly eco-oriented, chosen by its level of friendliness to the environment.
This same brand of shampoo・conditioner・body soap can be used for all ages.
Also, we have prepared a DHC Olive Green Series for the women's bath area.
As olive is effective in the pursuit of beauty, it is also excellent for its moisturizing and anti-oxidizing power, and extremely kind on the hair and scalp – the brand is a gentle shampoo and conditioner.
It is also proven successful as body soap.
What is DHC olive green series?

This shampoo and conditioner are gentle on the skin and hair pursued a beauty effective of olive, excellent in moisturizing capacity and anti-oxidative activity.


Our mission is to ensure customers have a most satisfactory hot spring experience.
For that purpose, we focus on "method of hot spring sterilization". Sterilization of hot spring water is an indispensable process for enjoying hot springs.

However, conventional disinfection with sodium hypochlorite also has negative aspects such as a stringent disinfection odor. And there is no point in losing "comfort" in seeking "peace of mind".

Can hot and cold water provisions be both safe and comfortable? In this line of thought, "Aqua Kua" was born.
What is Aqua Kua?

Aqua Kua is hot spring water using Japan's first slightly acidic electrolyzed water produced by electrolyzing hydrochloric acid, which is used for sterilization, cleaning and bacteria elimination in food manufacturing plants and the like. The slight acidic electrolyzed water is characterized by having strong bactericidal power even at low chlorine concentration, and in 2002 it was approved as a food additive by the Ministry of Health, Labor and Welfare. No abnormalities have been observed in various toxicity tests conducted using animals and bacteria, which has made it a focal point in considering microbial contamination countermeasures. It has excellent sterilizing power against Legionella bacteria, has little odor, and it does not affect the human body or hot spring ingredients, including the natural environment. Come and experience our refined "Aqua Kua" firsthand.
3 Points of Appeal

Excellent bactericidal effect

Excellent sterilization of various bacteria such as Legionella, Salmonella, Staphylococcus aureus, etc. It is used for sterilization, cleaning and bacteria elimination in a wide range of fields such as food factories, hotels, restaurants and medical care. With a slight acidity close to that of the human skin, it has no effect on the human body.

There is little smell

While having excellent bactericidal effect, there is also little smell. The original smell that accompanies use of conventional sodium hypochlorite is eliminated, so you can enjoy comfortable bathing.

It does not affect the natural environment

Even as the draining process cannot be avoided, no negative effect occurs on activity of microorganisms that clean water. It does not disrupt the ecosystem of the "Osara River" flowing in front of the hotel, friendly hot spring water to the human body and also to nature.